Union road transport and highways minister Nitin Gadkari on Tuesday unveiled a 100 per cent ethanol-fueled variant of Toyota's Innova HyCross car. This car is said to be the world's first BS-VI (Stage-II), electrified flex-fuel vehicle.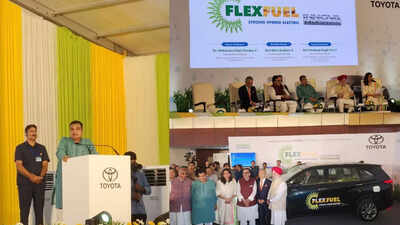 Flexible fuel vehicles (FFVs) have an internal combustion engine and are capable of operating on petrol and any blend of petrol and ethanol. Till now, the maximum limit of mixing is set around 83 per cent but this model says to run on 100 per cent ethanol.
Biofuels can save India the valuable foreign exchange that is being spent on the import of petroleum. "If we want to become Atamnirbhar (self-reliant) we have to bring this oil import to zero. At present, it is ₹16 lakh crore. This is a big loss to the economy," Gadkari said at the Mint Sustainability Summit last week.
Vehicles running on alternate and greener fuels are necessary for sustainable development. "We have taken a lot of (sustainability) initiatives but we need to take more because pollution is a problem. Ecology and the environment are very important. We need to reduce air and water pollution. We have to improve the quality of water in our rivers. This is a big challenge. We need to protect our ecology and environment," he said.
Last year, a hydrogen-powered car, the Toyota Mirai EV was launched by the union minister to promote alternative and green fuel energy.
What is Ethanol and how it is manufactured?
Ethanol (also called ethyl alcohol, or alcohol) is a biofuel with the chemical formula C2H5OH. It is naturally made by the fermentation of sugar. In India, it is largely derived while extracting sugar from sugarcane. However, other organic matter like food grains can also be used for its production.
The government has launched the Ethanol Blended Petrol (EBP) Programme to mix this biofuel with petrol to reduce the consumption of fossil fuels. India has set a target of 20 per cent ethanol blending with petrol by 2025.
'Ethanol a green fuel'
Ethanol supports complete combustion, according to a government report higher reductions in carbon monoxide emissions were observed with E20 fuel–50% lower in two-wheelers and 30% lower in four-wheelers. Hydrocarbon emissions scaled down by 20%, but nitrous oxide emissions did not show a substantial trend as it depended on the vehicle/engine type and engine operating conditions.
4 Reasons why you should switch to an ethanol-based car: 
1) Reduced emissions:
According to the US Alternative Fuels Data Center, the carbon dioxide emitted by a vehicle burning ethanol is offset by the carbon dioxide sequestered when the feedstock crops are grown to produce ethanol, which is not the case for gasoline and diesel.
The data suggests that the use of corn-based ethanol produced from dry mills can reduce greenhouse gas (GHG) emissions by an average of 40 per cent.
2) Job creation: 
The switch to an ethanol-based car can lead to increased job creation in the agricultural and biofuel industries owing to an increased plantation of crops like sugarcane and corn which are used for producing ethanol.
3) Help achieve self-reliance: 
Union Minister Nitin Gadkari while speaking at the Mint Sustainability Summit 2023 had noted that the new ethanol-based cars could help reduce the India's dependence on traditional source of fuel and help the country on a path of self-reliance (aatmanirthbhar).
He said, "If we want to become Atamnirbhar (self-reliant) we have to bring this oil import to zero. At present it is ₹16 lakh crore."
4) Improved performance:
Swedish supercar manufacturer Koenigsegg had launched a CCX variant that ran on ethanol. Apart from the environmental benefits, the car also delivered a boost in the performance of the car.
Koenigsegg CCX running on ethanol delivered a power of 1018 bhp compared to 806 bhp without the biofuel. This was a direct result of the cooling properties of ethanol in the engine's combustion chambers along with the added boost it provided, a Wikipedia listing noted.