In an impressive announcement at the Confederation of Indian Industry's Sugartech conference on Monday, Laxmi Narayan Chaudhary, the Minister for Sugarcane Development and Sugar Industry, revealed Uttar Pradesh's staggering rise in ethanol production capacity. He stated that the current capacity stands at two billion liters per year, marking an eight-fold increase from a mere 240 million liters per year just five years ago.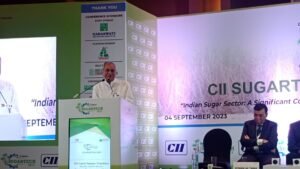 Chaudhary boldly asserted that this remarkable expansion would position Uttar Pradesh as the leading ethanol producer in India. He added, "The state's ethanol capacity has now exceeded Rs 12,000 crore and is expected to reach 2.25 billion liters annually within the next few years. This sector has experienced unprecedented growth, thanks to substantial investments in plants, cutting-edge technology, and an expanded cultivation area over the past six years."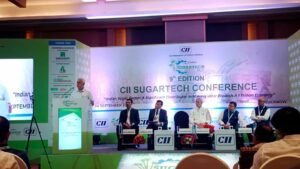 Addressing the audience, Chief Secretary DS Mishra emphasized the pivotal role of the sugarcane sector in propelling Uttar Pradesh towards achieving a USD 1 trillion economy. He described the sugar sector as a shining example of a circular economy, supporting over 4.5 million families associated with sugarcane-related activities, including sugar, ethanol, jaggery, power cogeneration, and khandsari production. The consolidated annual sugarcane economy in the state now stands at approximately Rs 50,000 crore. Mishra underlined the government's commitment to integrating the sugarcane crop into a lucrative ethanol value chain, ensuring profitable returns for farmers and doubling their income.
Roshan Lal Tamak, the Executive Director and CEO (Sugar Business) of DCM Shriram Ltd, who also chaired the conference, commended the state government's efforts in providing sugar mills with a progressive policy framework and resuscitating ailing sugar mill units.
Prabhu N Singh, the Cane Commissioner, shed light on the UP Bio Energy Policy, launched in September 2022. This policy aims to incentivize the establishment of compressed biogas plants, bio-diesel production units, and bio-coal production facilities based on bioenergy waste, further solidifying Uttar Pradesh's position in the renewable energy sector.