The upcoming 9th edition of the CII Sugar Tech 2023 conference is set to cast a spotlight on cutting-edge technologies and sustainable practices within the sugar industry.
The Sugar Tech 2023 will highlight the latest technologies relevant to the sector at the industrial and farm level. The platform would enable the industry to update themselves with the latest methods and the best practices to sustain their business in a profitable manner despite the challenges thus creating wealth from waste.
The Path to Sustainable Prosperity: The CII Sugar Tech 2023 conference is scheduled to take place on Monday, September 4th, 2023, at Hotel Hyatt in Lucknow. Organized by the Confederation of Indian Industry in collaboration with the Uttar Pradesh Sugar Mills Association (UPSMA), this event promises to be a pivotal gathering for industry experts, professionals, and stakeholders.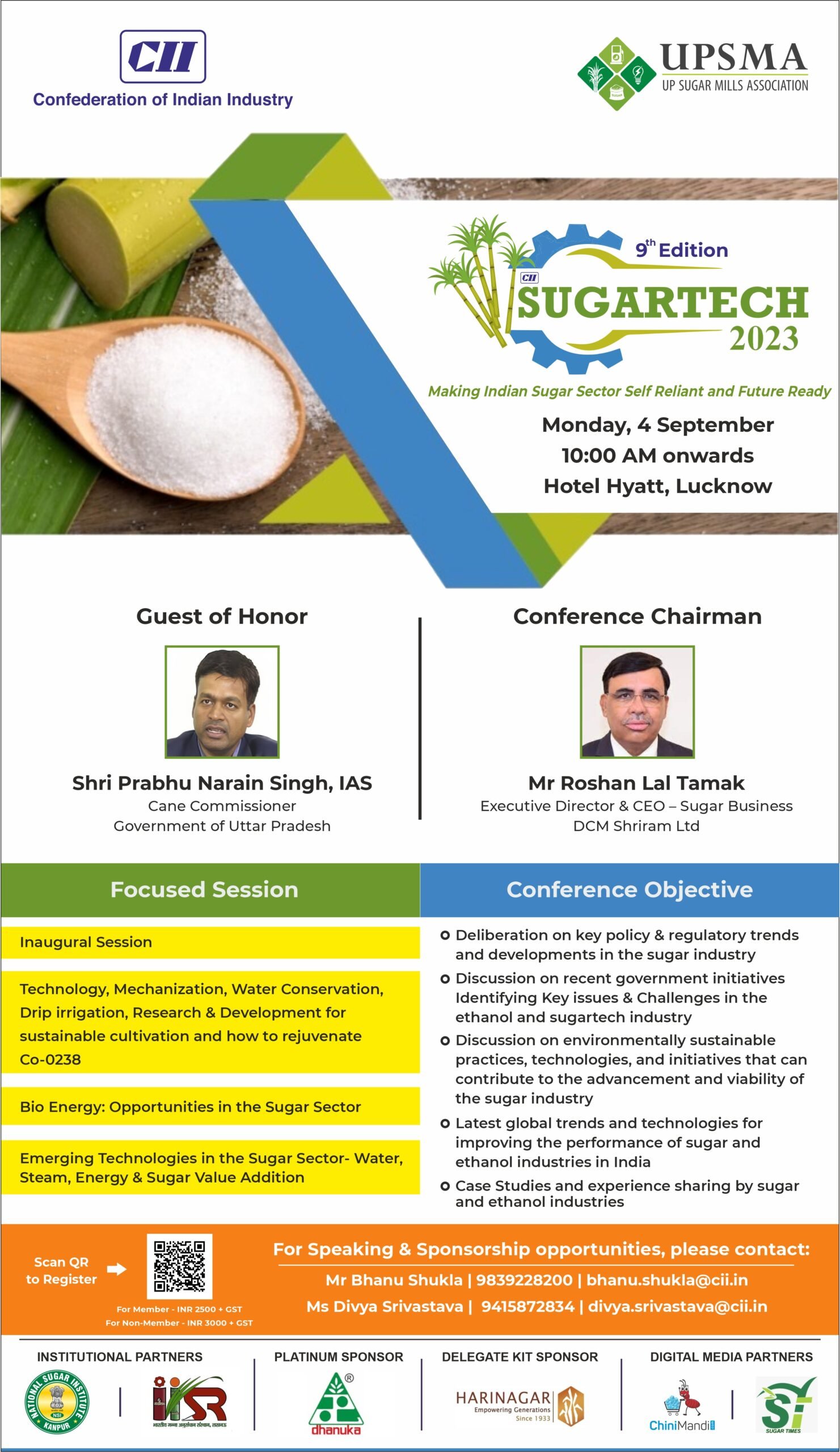 Exploring Key Themes: The conference will revolve around several pivotal themes that are shaping the sugar sector's present and future:
Sustainability in Sugar Sector for a Circular Economy: The integration, diversification, and value addition that foster sustainable growth.
Technological Interventions for Growth and Adaptation: Highlighting robust technological solutions and their adaptation to combat climate change.
Transitioning to a Bioenergy Hub: Exploring how the sugar sector is evolving into a hub of clean and bioenergy.
Ethanol: The Emerging Sector: A comprehensive exploration of the rapidly growing ethanol sector and its potential impact.
Global Trends and Technologies for Sugar and Ethanol Industries: Insights into worldwide trends and technologies that can elevate the performance of Indian sugar and ethanol industries.
Waste-to-Energy Generation Possibilities: Unveiling opportunities to harness energy from waste products and enhance energy efficiency.
Power Sector Significance of Cane: Investigating the crucial role of sugarcane in the power generation domain.
Advancements in Biofuels: Uncovering the potential of 1G, 2G Ethanol, and advanced biofuels for a greener future.
UP's Ethanol Triumph: The conference gains further significance due to the notable achievements of Uttar Pradesh in ethanol production. The state has successfully achieved 10% of the Government of India's target of 20% ethanol blending in petrol. With 75 distilleries possessing a production capacity of 249.49 crore liters per annum, Uttar Pradesh has emerged as the country's leading ethanol producer, contributing significantly to the bio and clean energy sector.
Seize the Opportunity: Professionals and stakeholders looking to participate in this influential event can register through the provided link: Registration Link.
For further information or assistance, interested parties are encouraged to contact Mr. Bhanu Shukla at 9839228200 / bhanu.shukla@cii.in or Ms. Divya Srivastava at 9415872834 / divya.srivastava@cii.in.