The Indian Sugar Mills Association (ISMA), has once again taken center stage, aligning with the Government of India and the International Sugar Organization (ISO) to present the groundbreaking 1st Edition of 'The India Sugar & Bio-Energy Conference', 2023. The event, scheduled for September 21st and 22nd, is set to convene at the elegant JW Marriott in Aerocity, New Delhi.
At the heart of this monumental collaboration lies the collective pursuit of a greener, more sustainable future for the sugar and bio-energy sectors. ISMA's resolute commitment to advancing the industry's agenda is exemplified by its prominent role in this conference.
The event will spotlight vital discussions on "Sugarcane Industry – Driving the Green Economy" reflects the significance of the sugarcane industry's role in fostering sustainable practices and bio-energy initiatives for a greener future.
Over the two days, the conference will witness the participation of eminent and world-renowned International and Indian thought leaders who will share their expert knowledge on the dynamics of the global sugar economy, trade flows, and the latest technologies for further growth in the bio-fuels sector. This convergence of expertise will facilitate knowledge sharing, idea exchange, and the design of a path for the future of the sugar and bio-energy industry.
With an expected turnout of over 400 attendees from India and across the world, the conference promises to be a platform for networking, knowledge exchange, and the exploration of innovative solutions.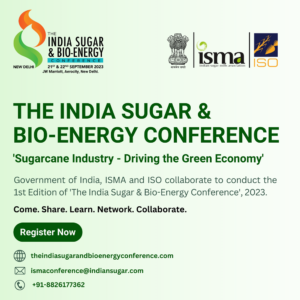 A representative of ISMA, expressed enthusiasm for the event, stating, "The India Sugar & Bio-Energy Conference is a testament to the industry's determination to evolve in harmony with changing times. ISMA is proud to spearhead conversations on the pivotal Net Zero Sugarcane initiative, showcasing our industry's dedication to environmental stewardship and sustainable practices."
Under ISMA's visionary leadership, the conference promises an impressive panel of industry experts, thought leaders, and stakeholders, poised to share insights, strategies, and solutions that will shape the trajectory of the sugar and bio-energy sectors. As global discussions on clean energy and sustainability gain momentum, ISMA stands at the forefront, championing progress and collaboration.
The India Sugar & Bio-Energy Conference 2023 offers an unparalleled opportunity for professionals, stakeholders, and visionaries from within the sugar industry and beyond to convene, learn, and collectively chart a course toward a more sustainable, prosperous future.
For any inquiries regarding the event, please email to ismaconference@indiansugar.com or contact to Sugar Times team on +91 73554 53462 or you may also email us on info@sugartimes.co.in.